Design documentation as a part of the design process is often an afterthought for design teams. It takes a backseat as designers are usually extremely busy with the designs. Not to mention they also have to speak to clients, conduct research and attend to the million other things that the design process entails.
Lately, more and more experienced designers have been pushing for design documentation to be a concrete part of the process. As the nature of design becomes multidisciplinary and more collaborative than ever, the need to document the design process is also taking precedence.
Before we delve into why we need design documentation, let us take a look at exactly what it means.
What is Design Documentation?
Design documentation is a collection of documents and resources that covers all aspects of your product design. Documentation should include information about users, product features, and project deadlines; all essential implementation details; and design decisions that your team and stakeholders have agreed on.
Why invest in Documentation?
You need to be on the same page with stakeholders to gain their approval before beginning the design process. Since this process is continuous as you keep progressing deeper within the design process, proper documentation makes it easier to achieve this goal.
It helps you organize and deliver your thoughts to stakeholders. Consequently, this helps them understand how your design decisions will satisfy the user needs and their own business objectives.
Design documentation also helps communicate the rationale behind design decisions within the team. With proper design documentation for every step of the way, the need for back and forth is reduced. Good documentation tells a high-level story about the product and gets team members excited about the vision.
What should the Documentation include?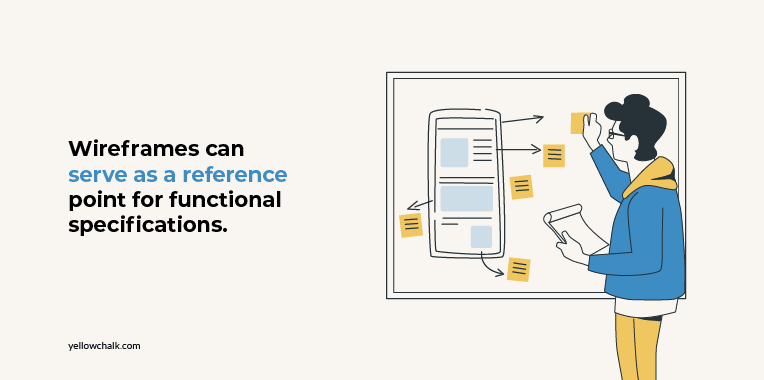 There are no universal rules for what constitutes UX documentation. It almost always depends on the type of project and organization within the project team.
However, there are some general guidelines that you can follow. These guidelines can help create good documents for every stage of the design process. Let's take a look at what they are.
Briefs are excellent to share with team members. They also help other stakeholders to understand the project's goals, objectives, and vision. Therefore, they are also a great tool for capturing all you need to accomplish in a project. They often include things like deliverables, budget and schedule.
In the initial research phase, you'll define user personas for the product. These personas will be informed by user research (e.g. interviews, surveys, etc.). They will help you understand users' characteristics, motivations, needs, requirements, and ensure that you're making design decisions based on the data from people who will actually use the product rather than the opinions of the team that is building it.
After you've developed your user personas, you'll need to map out how they might use your product. Experience maps are a good way to encourage empathy with users by understanding how they interact with the product. This will give you a better understanding of their actions, expectations, uncertainties, and hesitations. To sum up, it can help you create a seamless user experience.
Sketches are the fundamental part of the design process and probably the most common documentation you'll create. Moreover, they're very useful for visualizing ideas and showcasing concepts and early designs. Sketches are fast to create, they give team members something to bounce off, and are easy to iterate.
Firstly, wireframes are the backbone of your design. Secondly, they show the basic structure and hierarchy of key UI elements. Most importantly, depending on the level of fidelity, wireframes can be gray-scale or convey some of the design aesthetics. As part of UX documentation, wireframes can also serve as a reference point for functional specifications.
Mockups reflect the design in a more realistic way. They showcase the color scheme, layout, typography, iconography, and the overall visual feel of the product. Similarly, they are also great for gathering feedback and form an important part of the design documentation.
Usability testing reports
Usability reports are the documents that communicate the process and the results of usability testing. They may include anything from onsite interview scripts to user tasks and final results and statistics. By creating a standardized form of these documents, you can streamline the usability testing process. Consequently, this can also help keep everyone on the same page.
UX design specifications communicate UI design details such as color schemes, styles and measurements. They also help convey user flows and functionality to developers. They use this documentation to build the digital product based on the designer's specs.
These docs serve as a guide throughout the development process to maintain the visual design standards. They often cover detailed design patterns and correct usage, including guidelines related to hierarchy, alignment, etc.
The above list could seem like an overwhelming amount of documentation but think of it as a part of the designers' toolkit — not every project requires every tool.